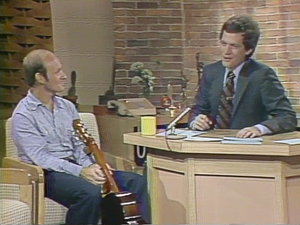 In the early 80's, I called up NBC at Rockefeller Center and asked to speak to the talent coordinator for The David Letterman Show (which was then a late night NBC show that followed the Tonight Show with Johnny Carson). A nice lady answered the telephone and asked me what my call was about. I told her that I was a German teacher at The New School in New York City and that I taught many useful language functions to my classes using universally known tunes.  As an example, I told her I taught my students how to order schnitzel and beer to the tune of 'When the Saints Go Marching In.'  Well, she laughed and invited me for a get-together. 
The next day I met her with my guitar at Rockefeller Center in the NBC cafeteria and taught her my lyric 'Guten Tag, wie geht es Ihnen?' set to the tune of Frere Jacque:
 
Guten Tag, wie geht es Ihnen?
Danke gut. Danke gut.
Und wie geht es Ihnen? Und wie geht es Ihnen?
Wunderbar! Wunderbar.
 
When she giggled, I knew I was booked. A week later I sat on David Letterman's couch and after the short interview, I went up into the studio audience and said, "Ok, we are in Germany. I'm the waiter and you are going to order a beer and a Wiener Schnitzel!"
 
Since I had limited time to teach the audience without visuals, I did my best to tune out Dave's endless wisecracking. The NBC band lead by Paul Schaefer played "Oh When the Saints" and the audience sang along:
'Bringen Sie mir ein grosses Bier.
Bringen Sie mir ein grosses Bier.
Bringen Sie mir ein Wiener Schnitzel
Bringen sIe mir ein grosses Bier.
 
The audience loved it and they cheered when we sang the song a second time (with David continually cracking jokes in my ear).  When the show went to a commercial break, David yelled to the audience "follow your 'Führer" the waiter, and we'll march into New Jersey!"